The Barracuda Email Security Service is a cloud-based email security service that protects both inbound and outbound email against the latest spam, viruses, worms, phishing and denial of service attacks. The web interface of the Barracuda Email Security Service provides you with a web-based email page called the Message Log, which lets you manage your quarantined messages. You can also set some account preferences, depending on what has been enabled for your account by the administrator.
The Barracuda Email Security Service can notify you on a regular interval when you have quarantined messages. The quarantine notification interval (daily, weekly, etc.) is set by you.
How to configure quarantine notification
Point your web browser to https://ess.barracudanetworks.com, and use your Windows username and password to log into Barracuda.
You can tell the Barracuda Email Security Service to notify you by email when you have quarantined messages. From the SETTINGS > Quarantine Notifications page, select Never, Daily, Weekly, or Custom from the drop-down. To create a custom schedule, select Custom, then select the time of day for delivery of quarantine notification emails for any or all days of the week. Uncheck a day to not send any quarantine notifications for that day. The Quarantine Notification page looks like this:
Select the times for when you want notification (in this example, it's set to M-F, 5 am). When you are done, click the blue "Save Changes" button in the upper right corner of the screen. After that, you will get notification sent (If you don't start seeing the emails, check your junk folder in Outlook).
How to manage the quarantine list
The notification email looks like this: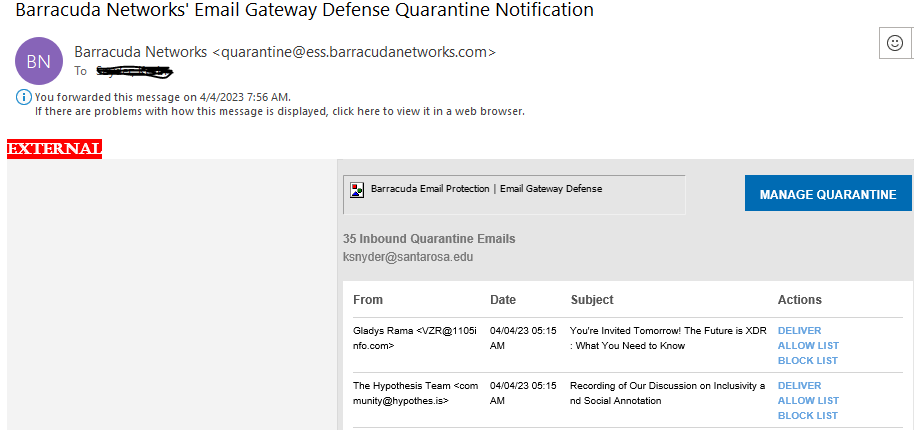 If you click the "View Message Log" button, you will be presented with a list of quarantined emails: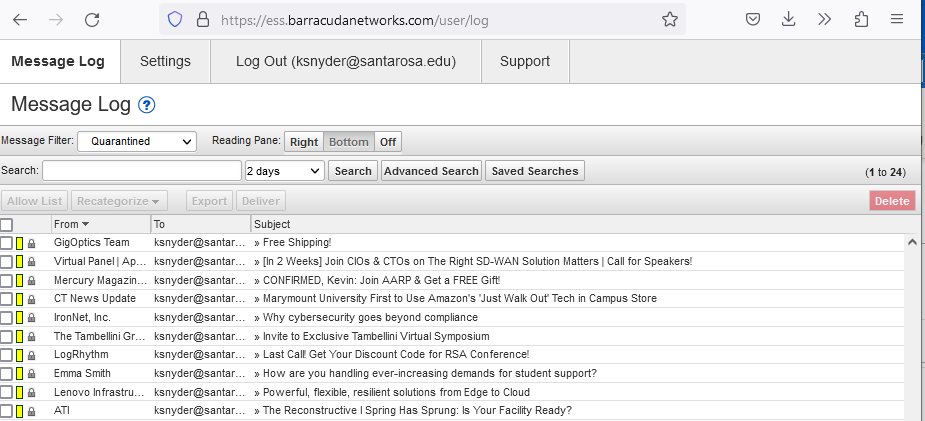 You can select all, some, or one email to either send, add to you allowable-sender list, or delete.